Having just moved into this house a mere four months ago it's still very much in a limbo of having my stamp placed upon it and having walls that haven't seen a lick of paint in a decade.
So obviously, interior design is constantly on my mind and this week I've been thinking about my bedroom.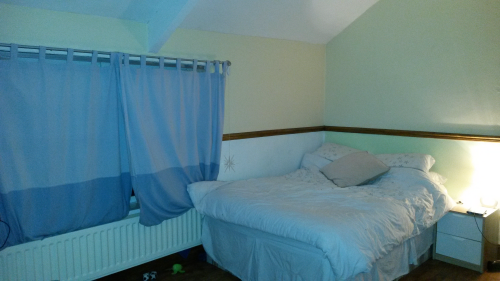 The walls are split in the middle with a horizontal dado rail, half-heartedly I painted the lower half of this white way back in August when it really needed lightening up (it was originally an apple green as you can see on the far wall!).
A few colour palettes have gone through my mind and have finally settled upon this one:
The curtains are much too long for the window but are perfect for the palette (there's a second block of blue in a much darker shade tucked behind the radiator)
My throw – which had a little accident with a cat today so is in the wash – is a sparkly taupe colour and of course the woodwork is dark brown.
Ideally I want to remove the dado rail, add a dark blue feature wall to the far wall and paint the rest white or taupe.
Stay tuned for if my hopes come to fruition.